Simple Holiday Entertaining Ideas to Serve Up Some Cheer
Oct 28, 2022, 16:47 PM
The holidays are stressful enough. Why complicate your already busy year-end schedule with fussy food and décor when planning for your holiday party? There are a plethora of vendors at the
Greater Cincinnati Holiday Market
that have products intended to simplify your life and make entertaining this holiday season easy and fun. Read on for creative ideas you can use this year!
SIMPLE HOLIDAY APPETIZERS

Keep it simple by using pre-packaged items, fresh jams, jellies and spreads from
Made By Mavis
. You'll find an incredible array of sweet and savory flavors that are sure to delight. Try these simple appetizer ideas from Mavis herself!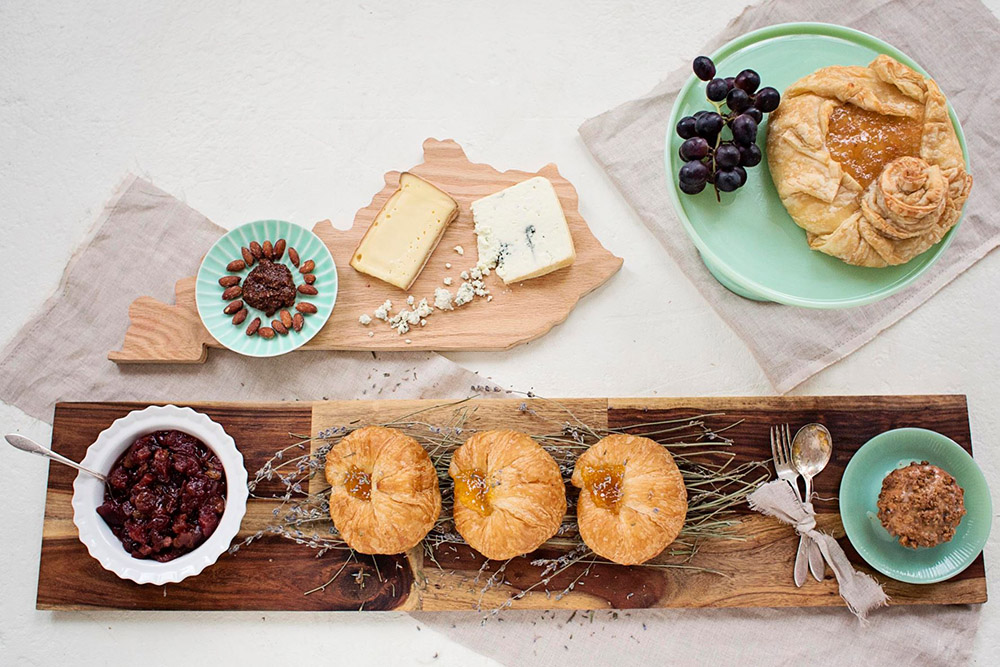 Create a Charcuterie Board
Think of Bull FROG (Fig, Raspberry, Orange, and Ginger) as your best friend when it comes to building the perfect holiday charcuterie board. You can't go wrong with a crostini, prosciutto, and jam combination to celebrate the season. Honey, pear and vanilla bean are also perfect for spreading atop baked brie.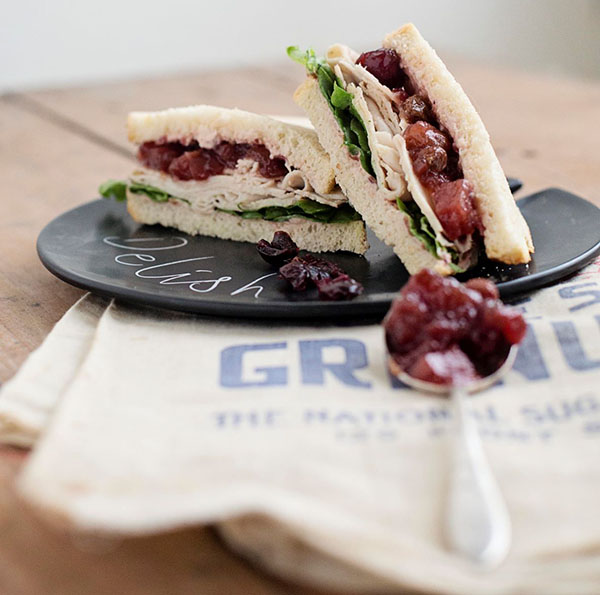 Utilize Those Turkey Leftovers
Pull that leftover turkey out of the freezer and put it to good use by whipping up some quick sandwiches using Mavis' delicious Cranberry-Pear Chutney spread. Quarter them up, pop a toothpick in each triangle, and plate them as easy appetizers!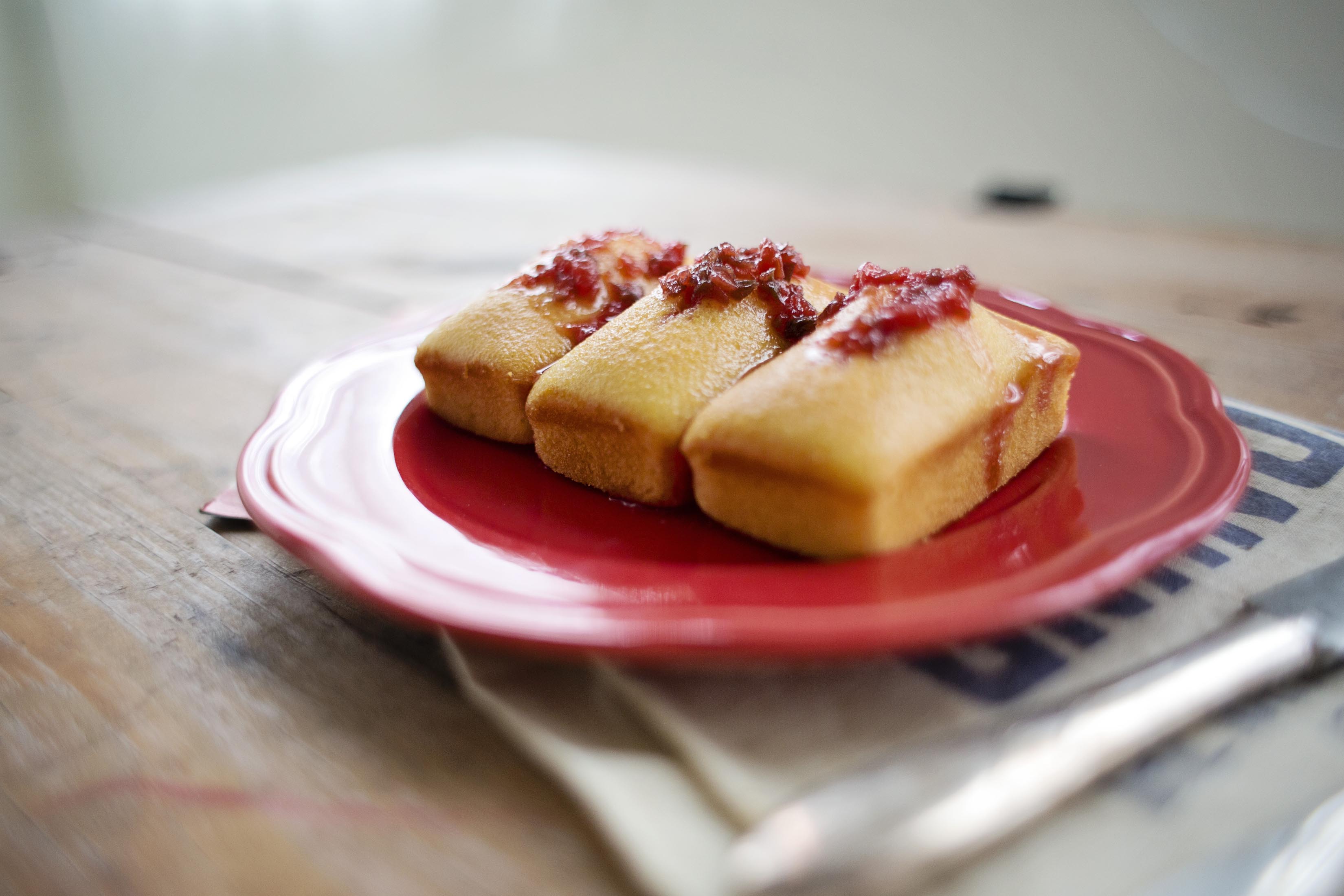 Add Flair to Basic Baked Goods
Top store-bought cookies or cornbread with Mavis' special Cherry Bomb jam for a touch of tart. Or consider a fancy alternative to butter such as Mavis' Vanilla Chai Apple Butter for a flavorful spread on top of muffins or fresh bread.
SPICED AND SPIKED HOLIDAY DRINKS
Check out these easy and comforting cocktails that take only a few minutes to prepare.
Caramel Apple Spice Cocktail
Nothing smells like the season like a big pot of mulled apple cider! Warm a half gallon of cider on the stove, then drop in some cloves, nutmeg, allspice, cinnamon sticks, and fresh orange
slices. Simmer for 30 minutes, then serve it up spiked with a shot of spiced rum or caramel vodka in a copper mug for an easy holiday cocktail that will give you that warm and cozy feeling you crave. Bonus: It will make your house smell amazing as you greet your guests!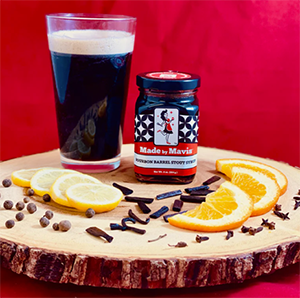 Mavis says her special Bourbon Barrel Stout is their 'unicorn' of syrups. It's an intoxicating mix of Alltech's Kentucky Bourbon Barrel Stout, Madagascar Vanilla Beans, and organic spices.
You can go from drizzling it over your chicken and waffles to making a yummy bourbon barrel stout cocktail. Shake it up to make a rich version of a Manhattan or mix a bit into your beer. This is your excuse to have beer for breakfast over the holiday break!
This one is for the wine lovers!! Just create a classic martini with a splash of the pom pinot and you'll have a delicious and gorgeous Pom-Tini that will surely impress your holiday guests.
DAZZLING DESSERTS
Beautiful and delicious holiday desserts don't have to be a multi-step or messy process. Keep it simple with these easy recipes using ingredients you probably already have on hand.
Easy Sugar Cookies
Get creative and make your own sugar cookies with this recipe from 3 Sweet Girls Cakery. (Or better yet, order some from them ahead of time!)
INGREDIENTS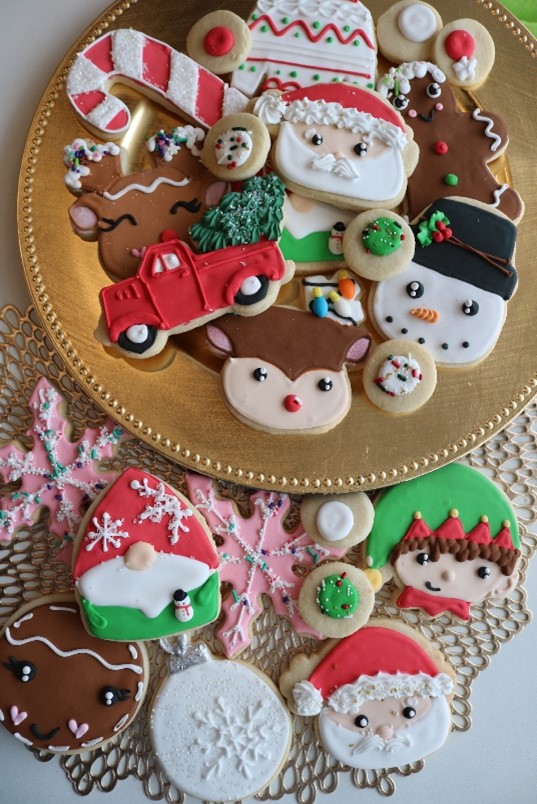 • 1 cup butter (2 sticks), softened
• 1 cup granulated sugar
• 1 egg
• 2 teaspoons vanilla extract
• ½ teaspoon almond extract
• 3 ¼ cups all-purpose flour
• 1 teaspoon baking powder
• ½ teaspoon salt
INSTRUCTIONS
1. Preheat oven to 350 degrees F.
2. In a large bowl, cream the butter and sugar with an electric stand mixer or hand mixer until light and fluffy. Beat in the egg, and vanilla and almond extracts.
3. Mix together flour, baking powder and salt. Add dry ingredients to butter mixture 1 cup at a time, mixing after each addition. Once the dough mixes into a ball, you're done mixing. Test that the dough is sticky and holds a shape but doesn't stick to your fingers. Do not chill dough.
4. Divide the dough into 2 balls, then form them into 2-inch thick rectangles discs. This will keep the dough from falling apart while rolling, and the rectangular shape will help you cut more cookies out of each rolling.
5. On a floured surface, roll each ball into a circle approximately 12 inches in diameter and 1/8 inch thick.
6. Dip the cookie cutter in flour before each use and cut out shapes as desired.
7. Bake the cookies on an ungreased baking sheet(s) with parchment paper (optional). Bake for 8-11 minutes or until cookies are lightly browned. Move the cookies to a cooling rack to cool completely and ice with royal icing or icing as desired.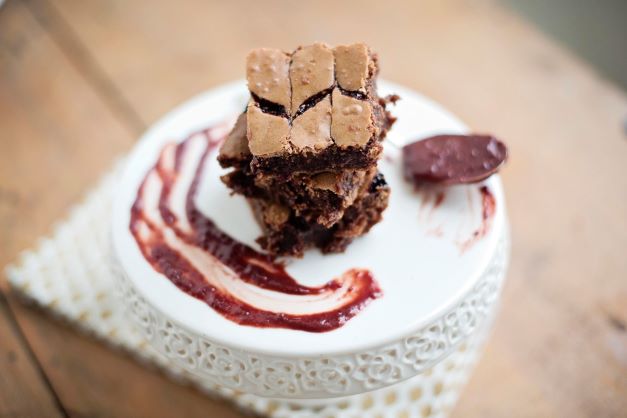 Swirled Dark Chocolate Raspberry Brownies
Dust off that basic brownie mix you have in the pantry, and prepare the mix as directed. Pour into a greased pan, then just swirl in a few tablespoons of Mavis' Dark Chocolate Raspberry spread with a butter knife before you bake, and you'll feel like a pro-baker with minimal effort!
EASY MODERN TABLESCAPE
Now that you have your menu ready to go, it's time to create a beautiful tablescape to serve it on! Following these simple decorating tips from Sarah Cox of
Rustic Grains Wood Company
.
Shop Your House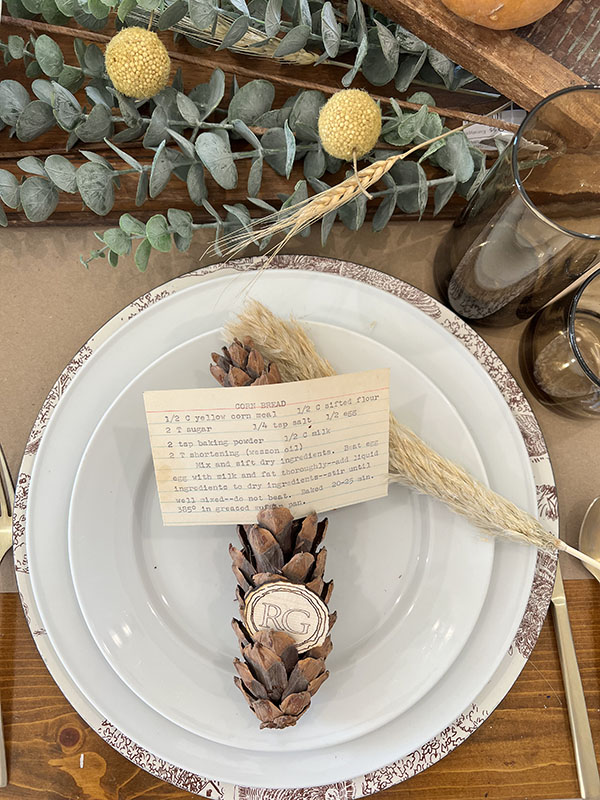 The best place to start with creating your table decor is using what you already have. Shop around your house! Go into other rooms around your home and pull items to incorporate into your table. Almost all the items used in this table scape are things that I already had on hand.
Mix Old with New
We love to mix old with new using vintage pieces or heirloom pieces that are special to our family. In this tablescape, I used my family's old recipe cards as place settings for each person coming to the table.
Bring the Outdoors In
Another great way to create a welcoming atmosphere is to add natural elements to your table. I love using pinecones from my yard, branches, leaves, eucalyptus, and strands of wheat to bring in some earthy vibes!
Layer and Texture
Remember, layers and textures should be your best friends. Layers are great to add dimension and bring interest to the eye and they partner so well with different textures. Don't be afraid to mix different patterns to add interest as well.
Check out more local and hand-made gifts, goodies, entertaining items, holiday décor and more from Made By Mavis, 3 Sweet Girls Cakery, Rustic Grains Wood Company plus 325+ more local exhibitors and boutiques at the
Greater Cincinnati Holiday Marke
t, November 11-13.